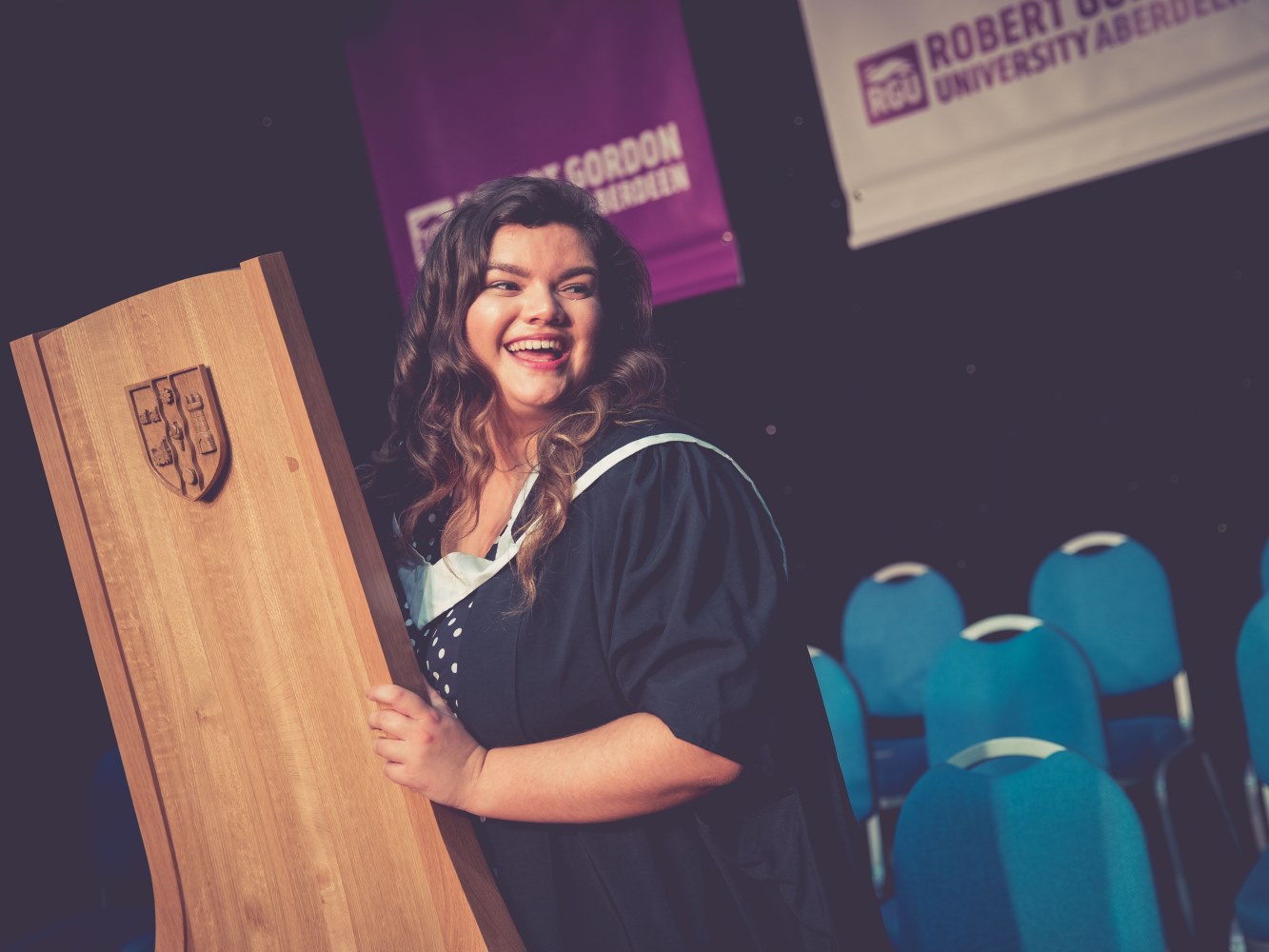 An Aberdeen woman who is usually behind-the-scenes organising RGU's Graduation ceremonies took to the stage this year to collect her own master's degree.
Kirstin Bell, of Aberdeen, works full-time at RGU as an Events Assistant and a major part of her role is the huge task of organising the university's graduation ceremonies but on Tuesday, December 4 at 10.30am, she stepped out into the limelight to collect her MSc International Tourism and Hospitality Management with Distinction.
The 23-year-old, who previously studied events Management at RGU, decided to study a postgrad because she wanted to further her knowledge and experiences in a different industry, whilst keeping the link to her undergrad degree, and now she has organised her own Graduation ceremony!
Speaking about the course, she said: "The vocational aspect of the course was a particular draw, having been able to undertake a six week full-time placement. The variety of modules that were studied allowed for a broad understanding of the tourism and hospitality industry whilst delivering into other subjects including digital marketing and strategic management.
"I have loved my time at RGU. It's been incredible and I have had a number of great opportunities arise from both my undergraduate and my postgraduate degree.
"A lot of hard work has gone into the last year and I'm so proud, and relieved, that it was all worth it!"
Kirstin continued to say that she really believes that "what you put into RGU, you will get out of it".
Throughout her five years of studying she has undertaken many hours of voluntary work experience and put herself out there into as many experiences as possible and says the rewards have been incredible.
Kirstin, who previously won Best Overall Student for fourth year in Events Management, also went to India for a month as part of the RGU Go: India project and helped organise an event which saw Prince Harry visit RGU.
Speaking of the opportunities available at RGU, Kirstin said: "The RGU Foundation kindly donated towards the RGU Go: India project which I was part of during my undergraduate degree. This was a month long project which involved 12 students from cross disciplinary courses travelling to India to create and implement a health and sports initiative. It was two years ago and I still think about India most days! It was such an incredible opportunity.
"I came home from India and the next day I was in RGU helping to organise an event for Prince Harry who visited Streetsport at RGU."
She concluded: "The courses that I have studied both had vocational aspects which allowed me to gain lots of industry experience and contacts which has been crucial in obtaining more opportunities over the years.
"I feel confident going into working life knowing that I have the academic and practical skills needed to succeed and take on new challenges and that's thanks to the endless opportunities available at RGU and the incredible courses that can be studied."