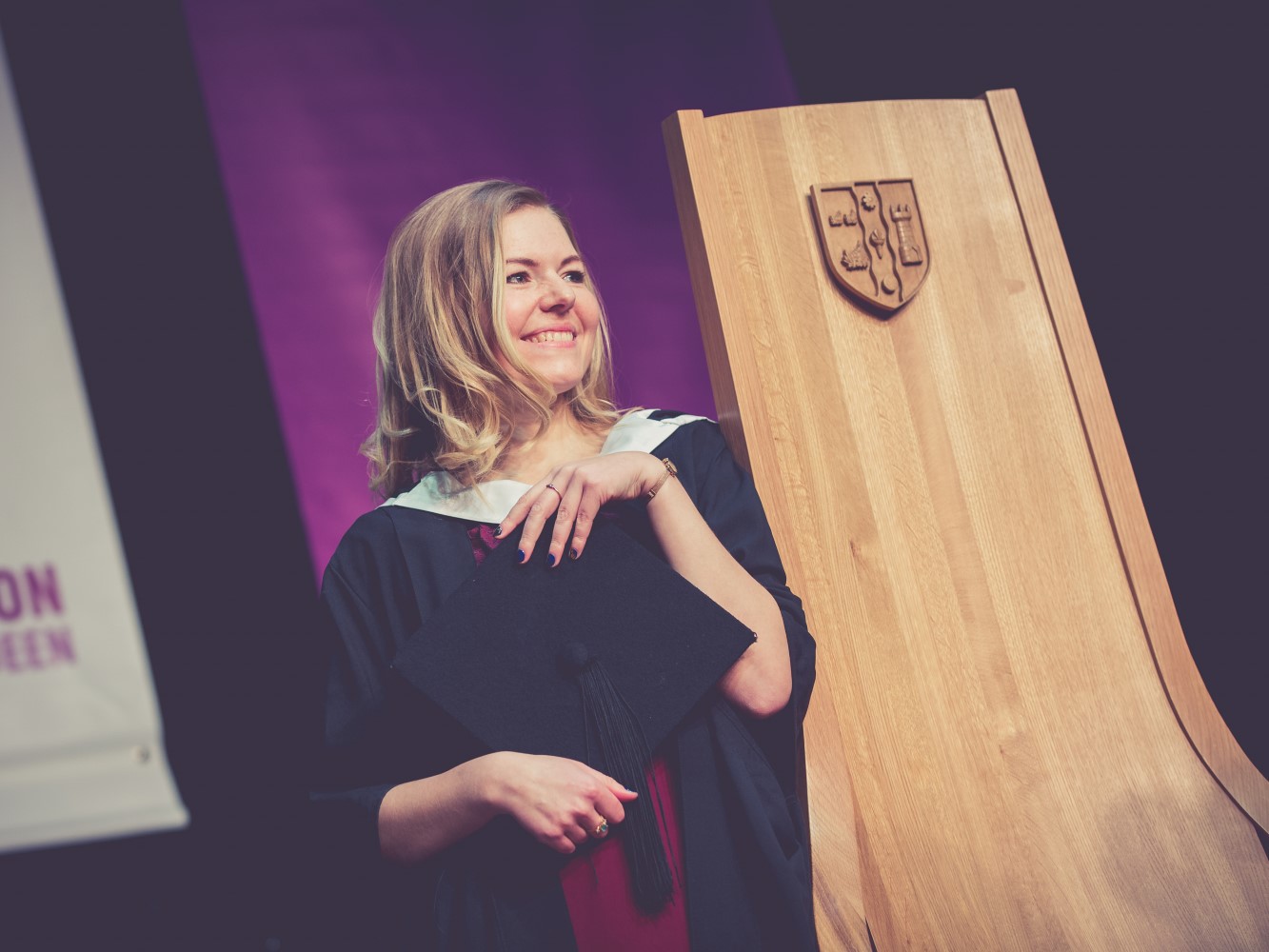 Hard work and dedication has paid off for inspiring Kate Kenyon as she graduates with an MSc degree with distinction while balancing her studies with a long-term illness and two kidney transplants.
The 26-year-old has spent most of her life in and out of hospital, spent hours and hours on dialysis a week and undergone two kidney transplants but was determined to carry on with her education.
She took to the stage on Tuesday, December 4 at 10.30am to proudly collect an MSc International Marketing Management and graduate for the second time in two years!
Kate, from Turriff, has suffered with chronic renal failure since the age of three. She was on peritoneal dialysis for four years as a child, received a kidney transplant from her Mum at the age of seven and then sadly it failed 12 years later at the age of 19. However, she received a second transplant from a cadaveric donor in January 2016.
Before her second transplant, she spent years bravely going through hemodialysis. Two years of attending three times a week for four hours and two years six times a week for two hours – during which time she never gave up studying – achieving an undergrad in communications with public relations from RGU two years ago and now a master's degree.
She said: "I thought about studying for an MSc straight after my undergrad but then I decided to try and find work. Due to the downturn, however, there was nothing really going and I was still unwell after my transplant, so moving away at the time was not an option. I decided to be productive and study again – it all worked out for the best."
Kate said she has absolutely loved her time at RGU and the support she received throughout her eight years of studying has been incredible.
She continued: "I have absolutely loved my time at RGU. It is so surreal not being a student anymore. I have been studying in higher education for eight years now and RGU was incredibly good to me throughout all my ups and downs. It was an emotional day for me when I handed in my dissertation. Most people can't wait to leave university but I had such a strong connection to the university and I would do my MSc again in a heartbeat!"
Kate had to put her education on hold in 2012 when her transplanted kidney rejected and she was in hospital for six weeks. After a few health issues due to her immunosuppressive medication such as contracting meningococcal meningitis and pneumonia, Kate had some setbacks and had to re-do second year three times but that didn't stop her graduating and made her more determined to come back for her master's!
Kate concluded that the last few years at university has helped her build on her knowledge and confidence and now she is applying everything she has learnt to her work.
She said: "About two weeks before my dissertation was due, I started working as a PR Account Executive with an amazing company in Aberdeen. Everything seems to have worked out!
"Not many people land their dream jobs straight out of university so I am extremely grateful and now just looking forward to really starting my career off and what the future has to hold."