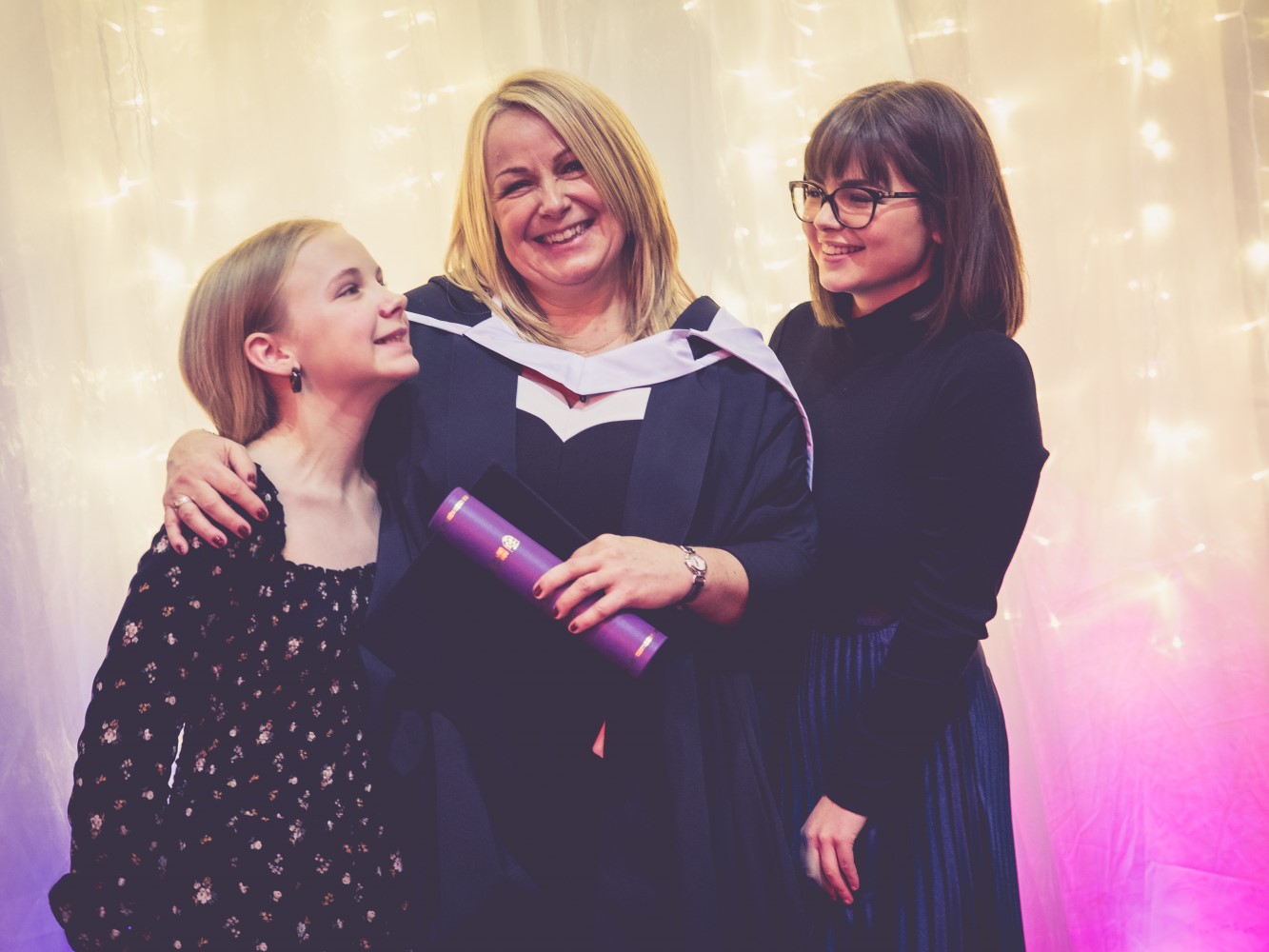 Working-mum Bridgit, who was studying at RGU at the same time as her daughter, is celebrating after graduating with a master's degree.
Bridgit Edmonstone wanted to complete her MSc in International Marketing Management before she hit the milestone of turning 50 next year and took to the stage at 10.30am at the Beach Ballroom on Tuesday December 4 to collect her degree from RGU.
The mother-of-two, who is from Elgin but has lived in Aberdeen since she was 18, has worked in marketing for over 25 years and has already achieved the Chartered Institute of Marketing PGDip from RGU in 1995.
She wanted to study a master's to consolidate the academic theory and experience she already had with new skills and knowledge, such as digital marketing.
She said: "I am completely delighted with my results. Full-time study while trying to do my full-time job in three days a week, as well as look after my two girls, was a huge challenge.
"On top of this my daughter Niamh was also studying in her final year of her International Baccalaureate at the International School of Aberdeen. It was a pretty stressed out household at times!
"Niamh is now studying at RGU's Aberdeen Business School for a BA in Journalism so it's been an amazing year for us both.
"I think it just goes to show that if you focus and commit you can do anything!"
Bridgit, who has also spent time living in Baku, Copenhagen and Abu Dhabi, said it was a last minute decision to attend RGU's Post Graduate Open Evening that gave her the confidence to sign up to the course.
She said: "I had always wanted to study for an MSc but bringing up my kids, work and living overseas for a while put my plans on hold.
"A sudden move back to Aberdeen from Abu Dhabi during the oil industry downturn forced me to evaluate my career as marketing opportunities in Aberdeen were scarce. A last minute decision to attend the Open Evening gave me the confidence to give it a go.
"The teaching staff were extremely supportive and my fellow students were great. I would sometimes be at work, or an event, before a lecture but the teachers were all aware of my situation and were understanding about it.
"I'm also really grateful to Andrew Turnbull, my dissertation supervisor whose knowledge of marketing in the food and drink industry was amazing and incredibly helpful.
"My dissertation was based on research into the food and drink industry and the formulation of a marketing plan for a foody business idea so I will push ahead with my plans now I have completed the course."
Bridgit is Marketing and Student Recruitment Officer at Scotland's Rural College and says that her year at RGU has given her renewed confidence in her abilities and is proud of her massive achievement.