Barry experiences joy and adversity to follow his calling
Wednesday 05 December 2018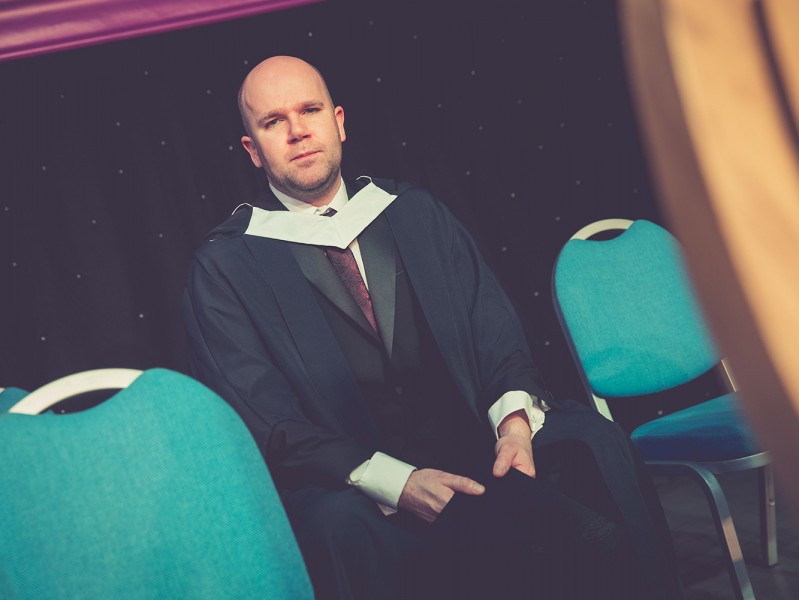 A compassionate and hard-working male nurse from Lerwick has brought his 21 year educational journey to a cathartic end this week, following his graduation from RGU.
Barry Wright graduated with a Bachelor of Nursing (Mental Health) at a ceremony at Aberdeen's Beach Ballroom on Wednesday 5 November.
Despite originally studying at Gray's School of Art from 1997-2001, nursing became Barry's calling after working as a carer for several years. At the urging of his colleagues, he returned to RGU to develop his professional skills and qualifications, but it wouldn't be without its challenges.
He said: "I'd never thought I'd return to being a student after 20 years, but in order to progress beyond my care worker role and to better care for people, it was my best option.
"It did take me some time, however, as I had to take two years away from studying to focus on working full time to financially get by and of course the birth of my daughter, which was obviously an uplifting high.
"I am incredibly grateful to the kindness I received from the mental health team at the School of Nursing and Midwifery – especially Debbie Banks and Dan Warrender – who supported me throughout that challenging time and helped me rejoin the course when I was ready."
While Barry's career as a carer had embedded a number of key nursing principles in him prior to his studies, he would strengthen that with a number of placements as part of his course.
He said: "It was a challenge at times to prioritise and balance my finances with raising two young children, study time, working and placements, but those placement opportunities were excellent. I spent time within a number of different settings, all of which were valuable towards my learning experience.
"I was also able to work alongside some excellent and inspirational nurses, who were very welcoming, knowledgeable and keen to share best practice."
Following his final placement and ahead of his graduation, Barry has put a cap on his efforts over the years, by securing his first full-time nursing position already, working as a staff nurse in an Adult Acute ward
He added: "It still feels surreal that my time at RGU has ended again and I'm not quite over thinking that there's another assignment somewhere to complete.
"I'm sure people might look at my story and see a tale of triumphing over adversity and it's true I'm thankful for all the support I've been given. But I see nursing as very much a calling in life and I can't imagine doing anything else."