Proud moment for placement mum Danielle
Wednesday 05 December 2018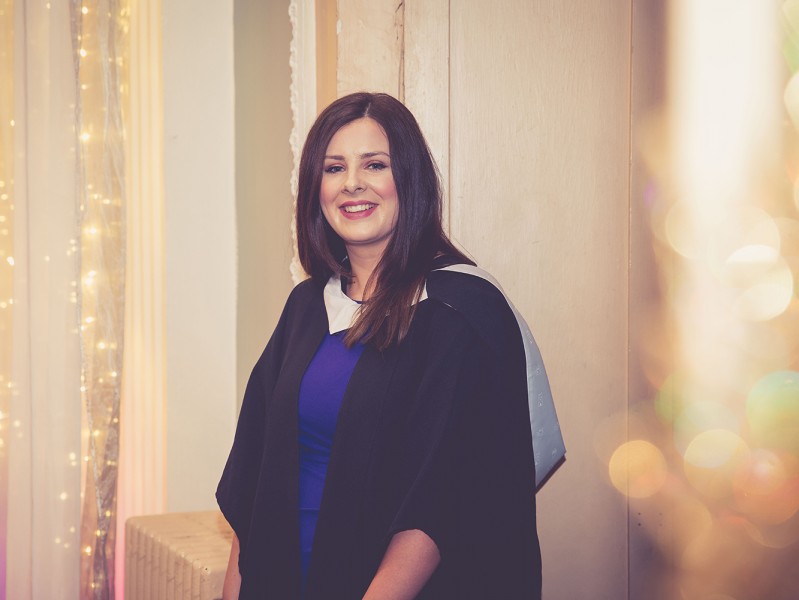 A caring Peterhead student is celebrating a whirlwind few years, which has seen her not only successfully complete a degree and start work as a nurse, but also become a new mum.
Danielle Robertson graduated from RGU with a Bachelor of Nursing degree at a ceremony at Aberdeen's Beach Ballroom on Wednesday 5 November.
Danielle was attracted to nursing at RGU thanks to its focus on practical teaching and a plethora or placement opportunities. This training stood her in good stead for a career that many see as being more of a calling, especially as she would soon be joined by an extra bundle of joy.
She said: "Nursing is such an attractive course and career, but it will arguably test the will of even the strongest people. You have to motivate yourself to get up at the crack of dawn, so you can catch the first bus and head in for a 12 hour shift, sometimes three days in a row, making you feel like the walking dead. But it's worth it when you see the effect you're having on each of your patients.
"If it wasn't challenging enough though, I gave birth to my daughter at the end of stage two, and had to take her with me to a placement around 70 miles away from home. It was a difficult time, but definitely rewarding. I know that when she's older, she'll be able to smile with pride and say 'my mum is a nurse'."
In addition to her experiences on placement, Danielle's skills were developed further thanks to simulated teaching in RGU's state-of-the-art Clinical Skills Centre and certain particular classes that stand out to her.
She said: "RGU and staff at the School of Nursing and Midwifery provided me with all of the practical skills I needed to feel confident and to achieve what I never thought someone like me would ever manage to.
"I found the Management and Leadership module particularly beneficial, as it taught real life skills that I could use on placement and any other situation to become a better leader. My tutor has also been a great role model, sharing their experiences and showing me how much you can achieve through education."
Now that she has graduated from RGU, Danielle has taken up a nursing post in a rehabilitation ward based in Peterhead.
She added: "Looking back, I think my biggest achievement at university is being able to say I came out the other end generally unscathed. I was doubtful I'd get in originally, as none of my family had ever been to university, but I am genuinely proud to say that I have changed that.
"I know they're just as proud of me too, and I look forward to passing these experiences on to my daughter one day."