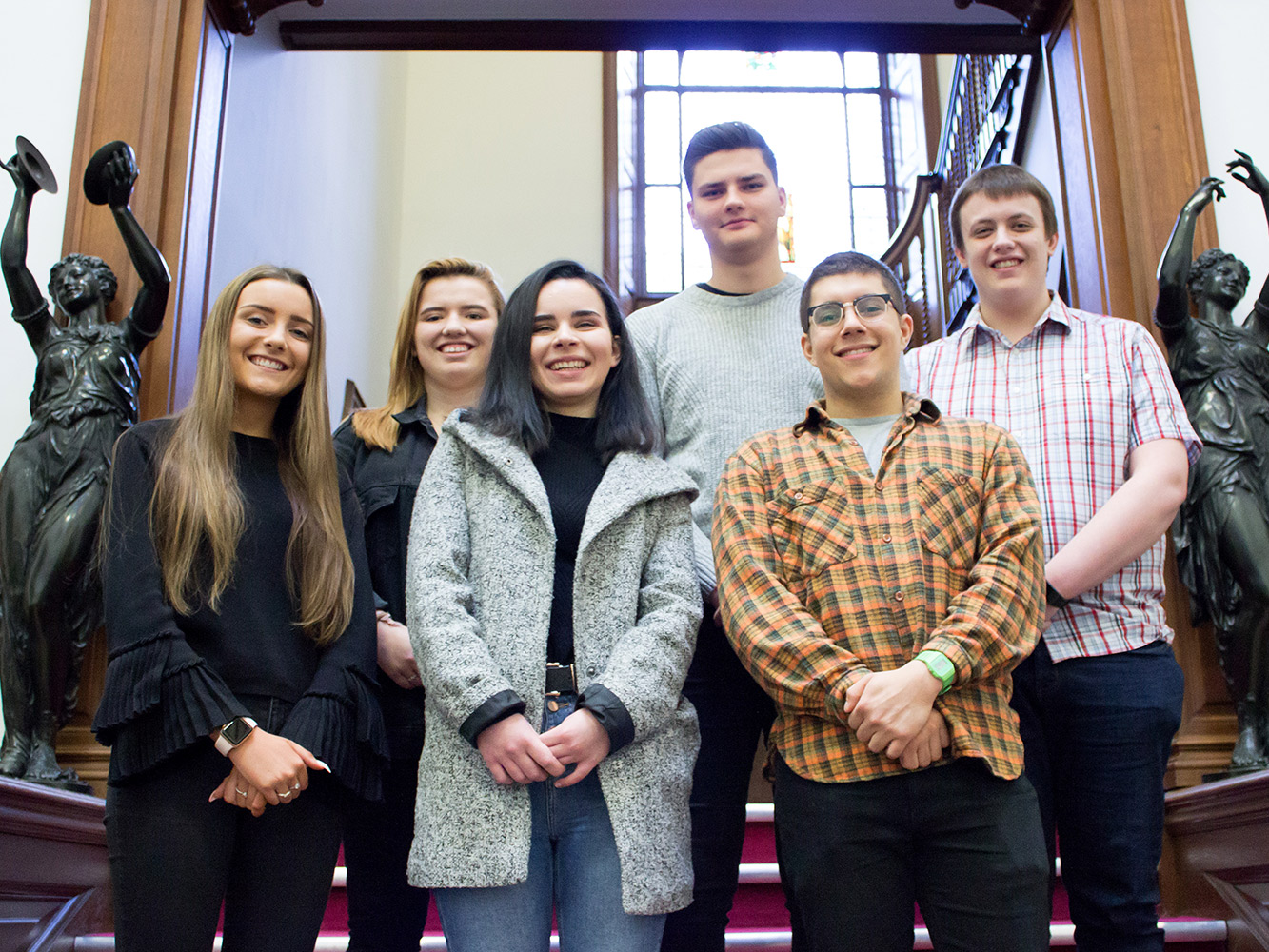 A number of initiatives to widen access to higher education and enhance student life at RGU have been funded by generous donations from the university's alumni community.
The projects – which include student scholarships, welfare services and the arts – have been supported by the RGU Foundation.
Professor John Harper, Principal and Vice Chancellor of RGU, said: "Since its beginning RGU has been shaped by the generosity of our alumni and philanthropists.
"I am grateful to all in our alumni community who have chosen to continue this tradition by providing support to current and future generations of RGU students."
One of the projects to benefit from funding is The Duke of Edinburgh Award Scheme. This internationally recognised youth achievement award programme has been set up by RGU students, and is open to all students to participate. It complements the university's focus on employability and offers students the opportunity to enhance teamwork, leadership skills and resilience.
Kyle Henderson, RGU Duke of Edinburgh Award Scheme Co-ordinator, said: "RGU Union's ability to provide the Duke of Edinburgh Award Scheme is important because it gives students a highly valued and well recognised award, and in the process increases many of their core skills like confidence, teamwork, independence and dedication. The Duke of Edinburgh Award makes our students more employable and well-rounded people.
"We are grateful to the RGU Foundation for providing the student group with funding, for without the funding we would not be able to pay our licence fee and we would be unable to provide the Duke of Edinburgh Award. The RGU Foundation support allows us to reduce the cost of the award for participants and allows everyone the opportunity to participate, regardless of their financial situation."
RGU's rowing club will benefit from a donation to purchase a new international standard coxless pair boat. This boat, which has a lifespan of approximately 15-20 years, will benefit current and future generations of student athletes.
Hannah Leslie, Head of Sport at RGU Sport, said: "Rowing at RGU is going from strength to strength and in recent years has seen great success at performance and recreational level.
"In order to continue to improve the programme and offer the best student experience, the rowing club requires to regenerate and replace equipment. The funds from the Foundation will allow the programme to purchase a coxless pair which will give added flexibility and opportunity for students to take part."
The fund will also support two access bursaries, which are match funded by the Robertson Trust. The RGU Robertson Trust bursaries allow exceptional students with the ability, though not necessarily the means, to attend university. These bursaries provide financial support as well as a personal development programme which includes community placements, internships, mentoring and leadership training.
Other projects to benefit are:
RGU Nightline, a student-led peer-to-peer support service which lets students talk through any problems they are facing
RGU Film Festival, and annual two day event run by the RGU Film Society showcasing films from around the world
57 10 Architects Society lecture series which invites internationally celebrated architects and artists to speak to students and members of the public
An annual interim exhibition of work by final year painting students at Gray's School of Art
The Prof Maehle Interprofessional Learning Award which will offer an RGU healthcare student to visit Heidelberg University in Germany for a collaborative healthcare experience
RGU Sport's Volunteer for Sport programme which provides students with the skills to volunteer with different sports both within the university and within their local community
Professional development opportunities for students to work with leading artists and designers as part of the Look Again Festival
This year has seen more than a 130% increase in the number of RGU alumni donating to students through the RGU Foundation. Donations of all sizes are valued, and will make a significant difference to students.