RGU student wins national placement of the year award
Wednesday 17 October 2018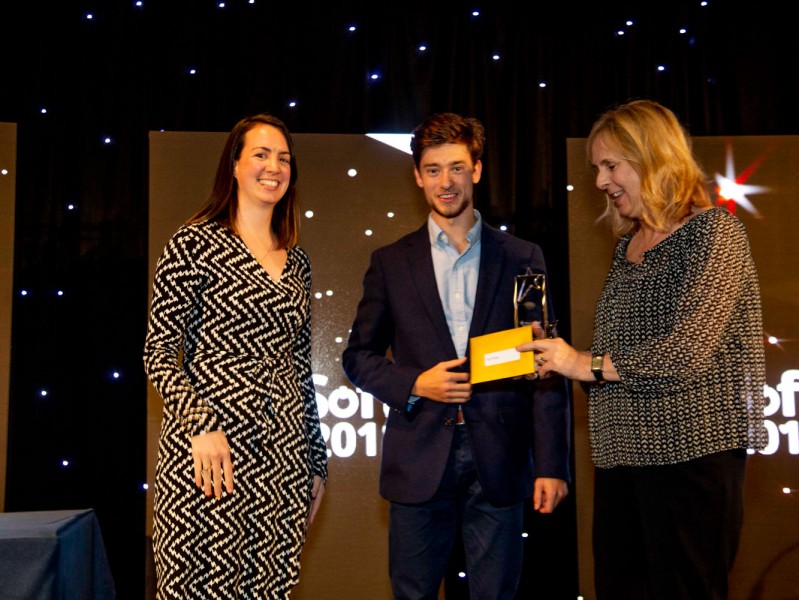 A talented student from RGU's School of Computing Science and Digital Media has won 'Placement of the Year' for his time spent with NHS Highland.
Harry Nicholls, who is studying Business Information Technology, and NHS Highland, were awarded the Gold Award, in recognition of an outstanding student placement at the e-Placement Scotland Awards.
This is the second year running an RGU student has won the award, with Electronic and Electrical Engineering student, Sanaa Dawod, picking up the top prize in 2017.
Harry initially started as an Assistant Business Intelligence Analyst working within the Business Intelligence Team writing report specifications, developing reports and working on development projects to provide enhanced data analytics to the wider organisation.
After a successful six months working as an integral part of this team, Harry was seconded out to the Planning and Performance department for half of his week. Within this department he was tasked with automating a long list of manual, operational tasks resulting in a saving of 16 weeks of man hours per year.
Harry commented: "I have learned a lot and broadened my base of experience and communication skills substantially, which can only help me in my final year of studies.
"My placement has provided me with insights and learnings that have enabled me to choose business change management as the IT tool that I will be developing as part of my final year (BSc) Honors Project at RGU.
"I believe that this placement will have a very positive impact on my employability. I have demonstrated my theoretical and practical knowledge through solving real-life business problems which are now benefiting thousands of NHS Highland employees.
"During this placement experience I have acquired new skills: report development; business intelligence practices; methodologies; website development; change management; presenting and communication techniques which are all relevant within both public and private sector."
Sarah Smith from NHS Highland added: "The industrial placement programme has been invaluable for NHS Highland this year, not only in producing valuable work, but also in bringing fresh enthusiasm to the department.
"The development of the Information Reporting Catalogue would not have been as successful had we not assigned it to our placement student – this gave a fixed time frame for it to be completed and Harry was keen to drive the project forward."