Inaugural memorial award to mark inspirational lecturer given at RGU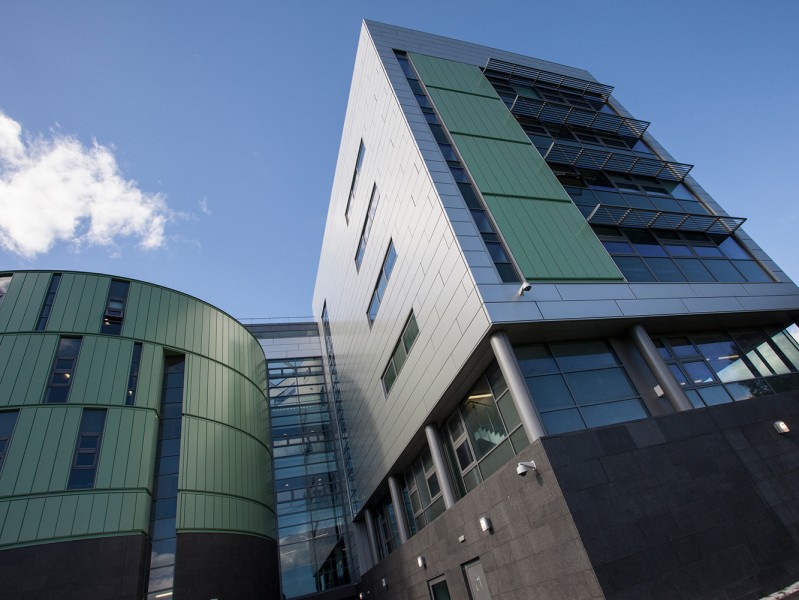 The family of an inspirational lecturer from RGU's Scott Sutherland School of Architecture and Built Environment attended the annual school awards to present two winning students with the inaugural Graeme McRobbie Memorial Award.
A former student of the school, Graeme came back to begin lecturing architecture at the school in 2010 and was a favourite among staff and students, having been recognised on a number of occasions with the 'I love my lecturer' awards.
Sadly Graeme passed away in 2017 after a battle with cancer, but the Award, which was the brainchild of Graeme and his wife, Sarah, was set up as a legacy to mark the work of standout first year students.
The inaugural memorial award was won by Dalibor Baran and Krzysztof Kalita who were presented with their certificates and prizes by Graeme's son Ellis (8), who said a few words at the ceremony. Also in attendance were Graeme's wife, daughter Emily, and mum, sister and brother.
Sarah McRobbie commented: "We're so proud that Graeme's passion for his job can be remembered in this way. He would have been delighted to see the students producing such high standards of work.
"Graeme's work colleagues and friends have been exceptional in their support to us as a family. We feel honoured to be able to be part of this awards ceremony and seeing Graeme's prize as he envisaged it become part of the annual prize giving. Thank you."
David McClean, Head of the Scott Sutherland School, added: "I am delighted that Graeme's wife, Sarah, and children Ellis and Emily, were able to join us along with his mother, brother and other family members.
"Graeme cared passionately about his work at the university, and lives on in much of the work that we do. Community is a defining element of the Scott Sutherland School, and his family remains part of our extended community as a mark of respect for his considerable contribution.
"It was wonderful to have his son Ellis say a few words in front of everyone, something that he chose to do, and the sentiments he expressed and courage of this act touched us all."
A number of other awards were presented on the evening, with members of local council and industry attending to present some of the winning students –
Royal Institution of Chartered Surveyors Award, Best Surveying student - Nikolai Ostrik
The Chartered Institute of Architectural Technologists (CIAT) Awards, Best graduating student Architectural Technology - Martyna Kulesza
The CIAT AspirATion Award Best Project Stage 3 - Harry Warren
The CIAT AspirATion Award Best Project Stage 4 - Mateusz Nowak
David Young Memorial Prize - Scott Mathieson
Simpson Shield, Technology Award for Stage 1 student – Paulina Pasik and Kara Mutch
The City of Aberdeen Medal for Civic Architecture – Sarah Wood
Aberdeen Society of Architects Silver Medal – Vicky Mitchell and Neil Mair
Aberdeen Society of Architects The Harbourne McLennan Prize – Neil Mair
CIOB prize for Best Stage 2 Construction Management student - Dugbatey Teye
CIOB prize for Best Stage 2 Construction Management student - Patrycja Linka
George Gregory Prize for Architecture Stage 1 - Joseph Inman
Most promising Built Environment Student winner - Matthew Johnson
Best Built Environment Stage 2 Student - Iain Phimister
Best Architecture Stage 2 Student - Jennifer Laffan
John B Johnstone Prize Best Student Overall - Sophie Perrott