Deeside railway line reimagined by RGU architecture students
Thursday 15 November 2018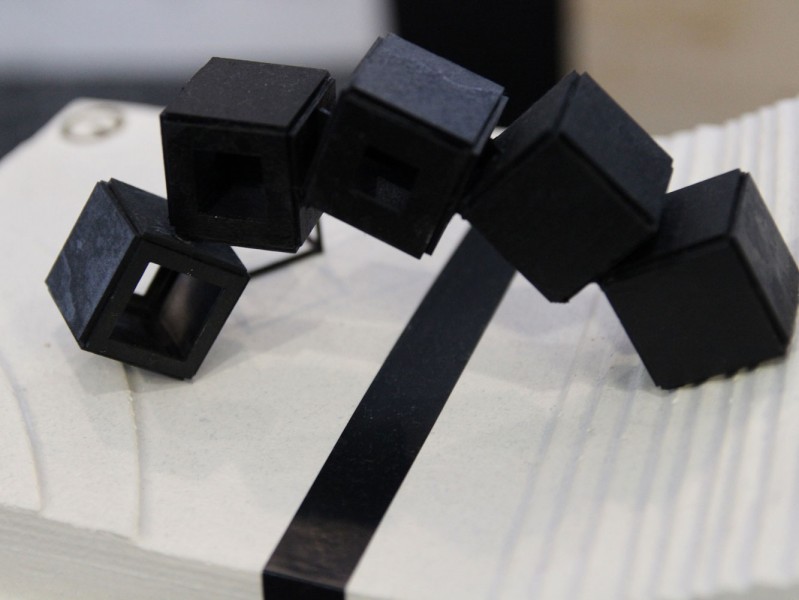 Students from RGU's Scott Sutherland School of Architecture and Built Environment have designed a series of inspiring structures which could help breathe new life into the old Deeside Railway Line.
The second year architecture students were tasked with designing a set of 'Folies' which would act as way finders along a 3.5km stretch of the route, helping to break down borders and connect communities.
The end result is a striking exhibition of work which shows the popular pedestrian and commuter route in a brand new light.
Many of the student designs are functional, while others are more installation based and provide users of the route with a succession of carefully designed markers from Pitfodels Station all the way to the Duthie Park.
One of the groups, 'Garthdee', which included students Aimee Florence Jackson, Ewen Calder, Rebecca Hawley and Andrew MacRae, opted for a bold design which, in time, would lead to a large communal space to be used by local communities.
A spokesperson for the group commented: "While conducting our research and on visits to the site, it was clear that there was a considerable divide between the east and west.
"We really wanted to try and break down as many of the physical and metaphorical barriers between the two areas in a bid to connect the communities on either side.
"Although all the groups were working to the same brief, all of the designs are quite different, although you can see the link between them as you travel down the line."
Dr Quazi Zaman, who has been leading on the project with his colleague Silvia Bassanese, commented: "Deeside Way is more than a disused railway, it is a memory line of the past that still residents find its value by connecting various parts of Aberdeen.
"Through design studio exercise, we expect students to address the Deeside as a potential connector for east and west and connecting parts and parcel of neighbourhood that are disconnected by the railway line."
Silvia added: "I am deeply impressed by the visual quality of the students' exhibition. It was a very challenging task, because of many different research strands.
"Being able to produce a critical mass of work within a very limited time and distil the most communicative materials for display requires maturity, competence, professionalism and at the same time pragmatism. I think that they should all be very proud of the results achieved."