Aberdeen design students exhibit work at Dundee V&A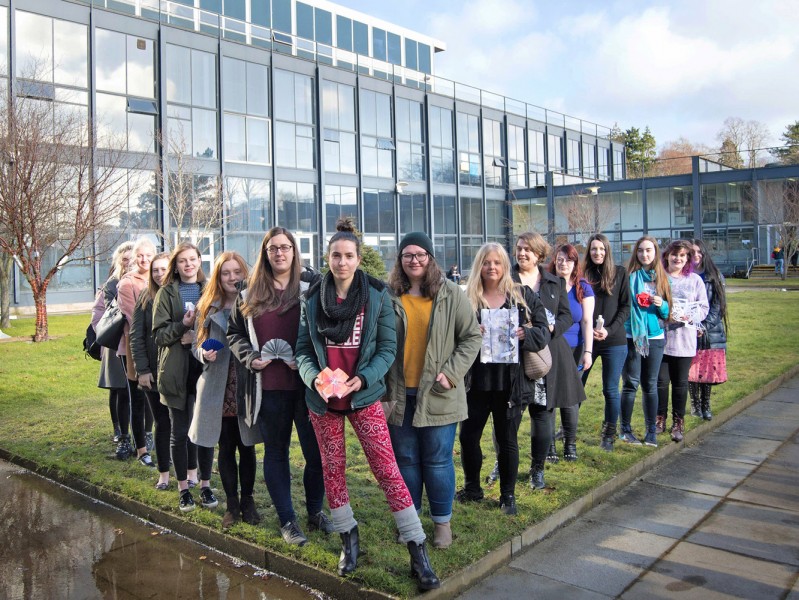 A project which saw students from Robert Gordon University's (RGU) Gray's School of Art and North East Scotland College (NESCol) collaborate to design a prototype inspired by the region's heritage is on display at V&A Dundee.
The students were representing the north-east as part of the Scottish Design Relay, a national project inspired which aims to encourage and nurture a new generation of designers.
The team of 16 students worked with Naomi Mcintosh, an Aberdeenshire-based jeweller, and V&A Dundee's Leanne Fischler, to create a new design inspired by the city's traditional paper industry.
The students designed a sculptural paper installation comprising of 20 unique cylinders, paying homage to the huge 'dandy rolls' which are found in paper factories and are used to impress watermarks during the manufacturing process.
Each cylinder in the installation is designed to display different decoration and patterns, reflecting the shapes and colours seen in the mill.
The students also took inspiration from studying an intricate enamel plaque designed by Aberdonian architect and jeweller James Cromar Watt. Made around 1900, and originally intended for setting in the back of a hand mirror, the plaque will go on permanent display at V&A Dundee.
Peter Nurick, V&A Dundee's Communities Producer, said: "We are delighted with the success of the Scottish Design Relay project and the wonderful response the resulting exhibition is getting from visitors to the museum.
"With thousands of people enjoying the exhibition every day, this is a fantastic way to promote the creativity, diversity and talent of young people from all across Scotland."
Daniel Sutherland, from Gray's School of Art, commented: "The Scottish Design Relay and the opportunity for our students to be involved with, and exhibit at, V&A Dundee – the most important thing to happen in the Scottish creative scene for decades – has been absolutely fantastic.
"As an art school, one of our core aims is to have a positive impact within the creative and cultural sector and this project has allowed us to do so. We appreciate the work V&A Dundee is doing to foster relationships with creatives all around the country."
Janice Scott, Curriculum Manager for Art & Design, Textiles & Photography at NESCol, added: "HND Textiles year 2 students from NESCol worked with 3D Design year 3 students at RGU to create designs based on paper manufacture in Aberdeen.
"We visited Arjo Wiggins paper mill where the 'Dandy Rolls', which are used to imprint water makes on paper, were the inspiration for structure and texture. Students then attended classes at both campuses where they took part in paper surface decoration and digital and laser cutting demonstrations.
"In mixed groups we designed and made paper Dandy Rolls using surface and digital techniques which are now on show at V&A Dundee.
"All HND Textiles students thoroughly enjoyed this project and took the inspiration further in a 'constructed textiles for fashion accessories project' so that this live experience enriched their achievement."
The prototype is on display within the Michelin Design Gallery at V&A Dundee, alongside other projects as part of the Scottish Design Relay.