Welcome from your student Presidents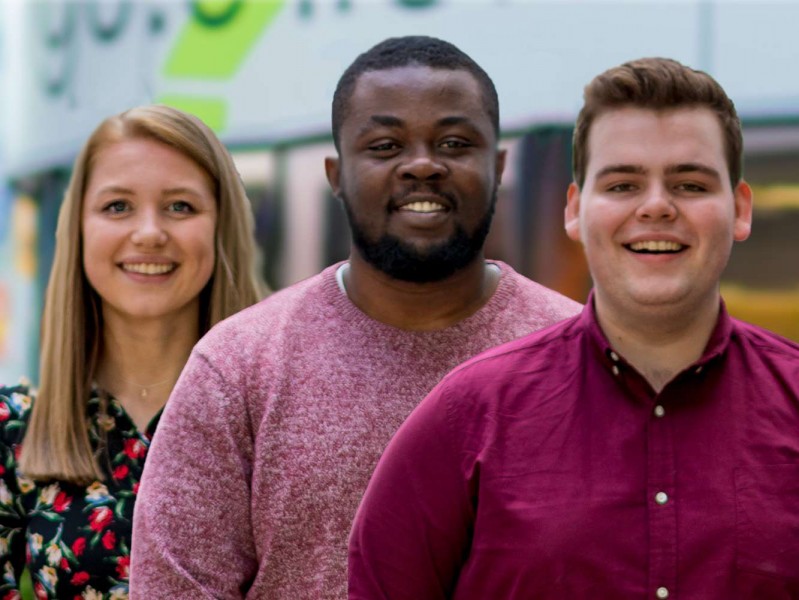 RGU student Presidents, Jordan Moore, Emmanuel Akerele and Ross Leven, lead the welcome to new and returning students as we prepare for the new term.
As your student Presidents, it's our pleasure to welcome you to RGU.
We know that for many of you, both new and returning students, you have been waiting for this day for a long time and you'll be experiencing a mix of emotions. We also know that things will look a bit different than you were expecting, but we want to assure you that everyone at the Students' Union and the University has been working over the past weeks and months to make sure that your experience during Freshers 2020, term one, and beyond is the best that it can be.
We have worked in partnership with the University to ensure that no matter where you study – whether through blended learning or solely online, in Aberdeen or around the world – every student will have access to the same opportunities, support and resources. We also know that for anyone that will be on campus, things will look a bit different; your safety is paramount and the whole campus has been adapted to allow for social distancing, so that those attending classes will have a safe, welcoming and accessible teaching environment.
We're also delighted to announce that the Freshers 2020 line up is now live with over 110 virtual events and activities hosted by the Union and the University. From study skills and course orientation sessions, to sport and wellbeing, to cocktail making and the legendary pub quiz, there will be so many opportunities for you to make friends, meet your student reps, lecturers and support staff, and – most importantly – have some fun!
If you feel you need any support during your time at RGU, there are many people that can help. Your personal tutor and course staff can point you in the right direction, and the team at the Students' Union are also more than willing to support you. Remember, although campus activities may be reduced, all support services are fully operational, and the Union's societies, sports clubs, student groups and networks are all still operating and providing amazing opportunities for you to build skills, meet new people and have fun
Finally, please don't hesitate to get in touch if you need anything. We will be here throughout the year to support you whenever you need us.