Black History Month – Q&A with Dr. Ibiye Iyalla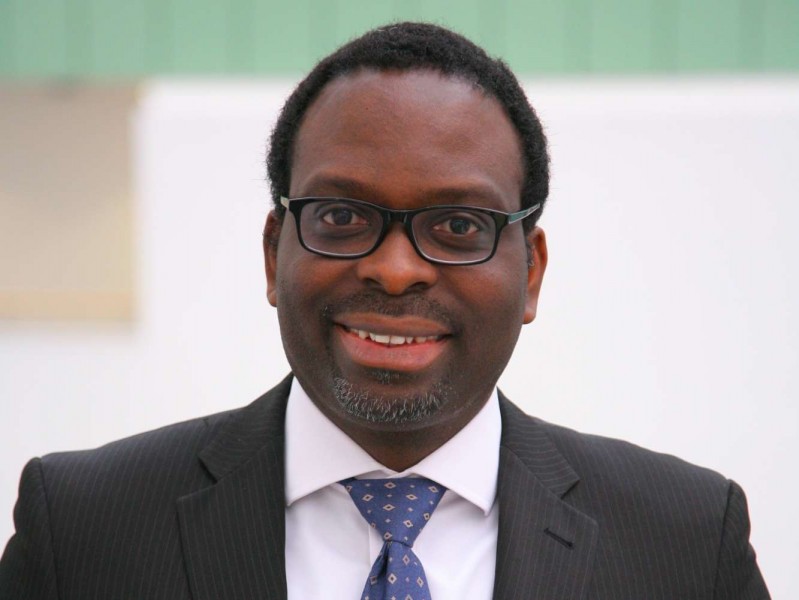 As the university marks Black History Month we caught up with Dr Ibiye Iyalla, the Academic Strategic Lead for Corporate & Postgraduate Programmes at the School of Engineering and Programme leader for Subsea Engineering.
Ibiye has over 11 years of experience in higher education having previously worked as a Subsea Engineer carrying out rig move, rig positioning and offshore seabed and pipeline surveys. He also has an honours degree in Electrical & Electronic Engineering, Masters in Oil and Gas Engineering and a PhD in Subsea Pipeline related research. Ibiye is married to Dr Ibifaa Iyalla (a GP) and they have two children David (10) and Dorothy (5). Coming from a family of academics, he writes about his experiences in Aberdeen and why diversity is important.
As a Black academic, tell us about your experience of working in Scotland.
For me personally it has been a great experience, especially working in Aberdeen. It's quite a cosmopolitan city so it was easier to integrate as people were more open minded, I suppose. Having said that, this does not imply that there may not have been subconscious or conscious biases from some people; I either didn't notice or just didn't give it too much thought. But overall, it has been a pleasant experience having been to different parts of Scotland.
Have you faced any challenges along the way and if so, how did you deal with them?
I would not say I have faced particular challenges that I can attribute to being a Black academic. My attitude has always been to have a positive outlook. I adopt the principle of emotional intelligence - I cannot control what life throws at me but I can control how I react.
What do you believe has been a major factor in your success?
Looking at things from a different perspective - what others may call a stumbling block, I consider a stepping stone. Adopting a can-do attitude and never thinking or seeing myself as disadvantaged. I am willing to always go the extra mile and persevere in the midst of adversity. My family upbringing and Christian belief encourages me to always strive towards success, irrespective of seen and unseen barriers. For me, failure is not an option. If you fail, try again. Keep making a move towards success and one day it will become a reality.
What comes to mind when you think of your culture?
Our value system of morals, community spirit, discipline and respect. I grew up in a culture where things are either right or wrong, good or bad, no in-between. There was a show of brotherliness – people rallied round individuals in times of adversity and celebration.
Why is it important that RGU takes part in Black History Month and engages its students and employees?
In the light of recent events around the world and as an institution that has its highest international student recruitment from people of Black ethnicity, it is important to ensure that these students are not disadvantaged or treated differently as a result of racial biases. It is important as an institution to demonstrate equality and equity across the board.
The School of Engineering is one of the most culturally diverse teams in RGU. What positive impact has this had on the school?
It will be difficult to tell without carrying out further analysis i.e. comparing with teams with less diversity. It is possible it has enhanced international student recruitment, research collaborations and corporate work. There are indeed benefits from having a diverse team - more variety of ideas, increased creativity and better output, faster problem solving, openness, and team members feel valued.
How can we encourage more cultural diversity among academia?
There must be a balance between encouraging diversity and getting people with the right skill set to do the job. This is where the School of Engineering has thrived - the recruitment process does not discriminate on racial grounds. As the world is becoming more of a global village there has to be a bit of intentionality in ensuring a more diverse workforce in the same way as there's a push for gender balance and equality. And this should be at all levels, because what we see is some diversity at lower levels but none in top management.
Who is a Black academic or expert from your field you look up to and why?
I grew up in an academic environment, this is what informed my choice to pursue a career in academia. My mother, late Basoene Iyalla, was a nurse who had part of her training in London and later became head of the nursing division in a University Teaching Hospital in Nigeria. Two of her brothers were also academics.
My uncle Kelsey Harrison, a renowned Professor of Obstetrics and Gynaecology and alumni of University College London was a Vice-Chancellor in a federal university in Nigeria. The other uncle, late GFS Harrison, was a Professor of Chemistry.
These are my foundational mentors. I must say there are a lot of Black academics and experts making great impacts on the world but unfortunately, they don't get as much publicity as they should. I suppose this is one of things that should be the focus of the Black History Month - ensuring Black people who are making a difference or who are successful known to the world so young people can have good role models.